The Ukrainian Defense Ministry is mocking the Russian military, saying Ukraine has seized massive troves of munitions that it promises to use against the invading armed forces.
In a sarcastic Twitter post, the ministry said Friday that it had "received thousands of tons of ammunition as a gift" from Russia's forces over the past week. The ministry's post follows reports of Ukraine's success in reclaiming occupied land in the country's south and northeast. But the "gift" of seized ammunition will be returned to Russia, the ministry added.
"Please note that we do not accept gifts from murderers, torturers, looters, or rapists," the ministry said in its post. "In the coming days, we will return everything, right down to the last shell."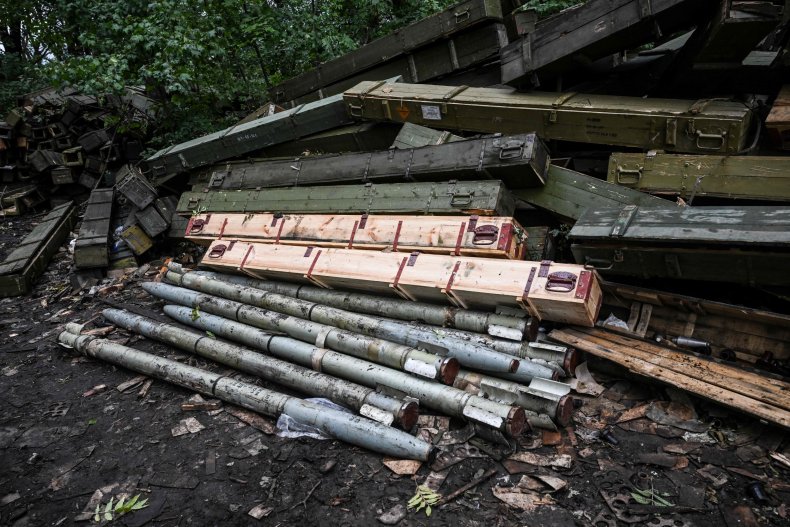 Ukrainian forces have retaken control of most of the northeastern Kharkiv province, including the nearby transportation hub of Izyum, while also advancing around the southern city of Kherson.
The Institute for the Study of War (ISW), a U.S.-based think tank that's been tracking the counterattack's progress, said this week that Ukrainian forces have reclaimed about 3,475 square miles (nearly three times the size of Rhode Island) across the country since August 29.
Ukrainian forces took control of Kupyansk, a city in the Kharkiv province on Friday, as they met Russian resistance while pressing forward east of the Oskil River, according to the ISW. In Russia's bordering Belgorod administrative district, Ukrainian forces continued shelling, reportedly striking a power substation, the ISW said.
The U.K. Ministry of Defense said in its intelligence update this week that Russian forces left behind "high-value equipment" necessary for its "artillery-centric style of warfare." The abandoned equipment included at least one ZOOPARK counter-battery radar and at least one IV14 artillery command and control vehicle, according to the ministry.
"Such abandonment highlights the disorganised retreat of some Russian units and likely localised breakdowns in command and control," the U.K. department said.
Air Force Brigadier General Pat Ryder, a spokesman for the Pentagon, called Ukraine's territorial gains "significant" on Friday during a press briefing.
"What we assess is that the Ukrainians are consolidating their gains after taking back significant territory, and that the Russians are attempting to shore up their defensive lines after having been pushed back," Ryder said, referring to Ukraine's gains in the north.
In the country's south, Ukrainian forces are taking what Ryder characterized as a "deliberate, calculated forward movement as the Russians continue to try to hold that line."
Ukrainian forces on Friday struck Russia's administrative headquarters in Kherson, likely using U.S.-provided High Mobility Artillery Rocket Systems, or "HIMARS," according to the ISW.
Russian President Vladimir Putin said Friday he remained committed to the war effort and focused on the Kremlin's key goal of "the liberation of the entire territory of Donbas" in eastern Ukraine.
Newsweek has reached out to the Russian Ministry of Defense for comment.