Russian President Vladimir Putin is facing "mounting" problems as Ukrainian forces continue counteroffensive efforts in occupied territory, British Chief of the Defense Sir Tony Radakin said Sunday.
Putin launched his invasion of Ukraine on February 24, hoping his large military would propel him to victory against his Eastern European neighbor. However, Ukraine met Kremlin troops with a stronger-than-expected defense effort, preventing Russia from achieving any significant goals after more than six months of fighting.
In recent weeks, Ukraine began counteroffensive efforts to take back key areas including Kherson and land near Kharkiv, Ukraine's second-largest city. While the Kharkiv offensive quickly saw Russians retreat, the battle to control Kherson remains ongoing.
During an interview with the BBC, Radakin said Putin is "failing on all of his military strategic objectives."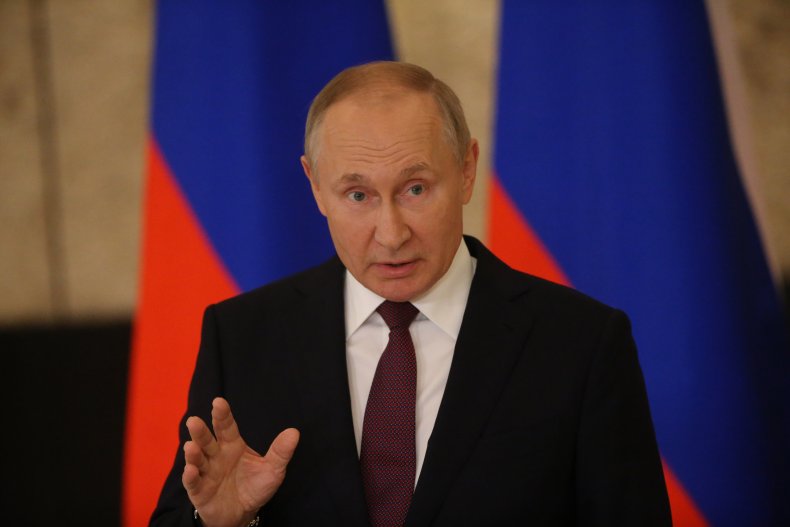 "He wanted to subjugate Ukraine. That's not going to happen. He wanted to take control of their capital. We saw that that was defeated earlier on. We saw that he wanted to weaken NATO. NATO is now much stronger, and we have Finland and Sweden joining. He wanted to break the international resolve," said Radakin. "Well actually, that strengthened over this period."
He added that Putin is "under pressure" in Ukraine, explaining the exact challenges Moscow's military faces.
"His problems are mounting," he said. "He's always had a problem in terms of crew and the equipment that he's got. He hasn't got sufficient manpower. His forces are thin on the ground."
He added that Ukraine embracing the support of its international allies, who provided Kyiv with military support amid the conflict, is "having an effect on the ground," therefore adding to Putin's strategic "failure."
Ukraine Sees Success in Counteroffensives
Ukraine's Kharkiv counteroffensive, which appeared to catch Russia by surprise, ended with Russian forces retreating from key cities such as Izium last week in what experts say is a clear indication of Moscow's challenges.
Meanwhile, fighting continues in southern Ukraine, where Ukrainian President Volodymyr Zelensky's troops hope to retake control of the key city, which serves as a gateway to Crimea, the region annexed by Russia in 2014. British intelligence said Sunday that Russia, amid losses, has increased its targeting of civilian infrastructure, including a strike against Ukraine's electricity grid.
Ukraine's successes have raised concerns about the future of the war, with some prominent Russians expressing discontent and frustration toward Putin. Despite this, Russian officials have said they remain committed to the war.
Ukraine Won't Engage in Peace Talks With Russia: Official
Radakin's remarks come as Zelensky's chief of staff Andriy Yermak said there is no use in holding conversations with the Russian leader. There have been several attempts at peace talks between Ukraine and Russia, but none have amounted to any agreement.
"The Russian question can only be solved by force. Attempts to negotiate with criminals look absurd," he wrote in a Telegram post.
Instead, he pointed to "only sanctions and military advantage" as being the ways to end the conflict. Russia has also issued similar statements, with one official saying "total capitulation" is the only way Russia would agree to end the war.
"Evil can only be cured by destruction. We are capable of destroying evil," wrote Yermak.
Newsweek reached out to the Russian Ministry of Defense for comment.